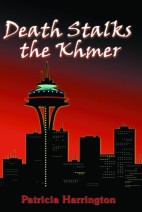 Though it's set in Seattle Washington, Patricia Harrington's Death Stalks the Khmer is a novel of international intrigue.
As the book opens, a husband and wife from the Cambodian refugee community have just been murdered, gangland-style. Harrington's heroine Bridget O'Hern is asked by the head of the Seattle Southeast Asian Assistance Agency (SEAAA) to act as a liaison between the police and the Asian community. Bridget, or Bridg, as she likes to be called, meets gruff police detective Jack Patrewski and his brassy partner Consuelo Morales, and quickly becomes embroiled in the lives of the SEAAA employees and their families, including the frightening and mysterious Nor Sang-a man reputed to have an "evil eye."
Because of her sympathy for the murdered couple's children and her own bulldog stubbornness, Bridg runs into everything from teenaged Cambodian gangs to men who still may have ties to the Khmer Rouge. Bridget O'Hern is not a traditional female detective-she's more like someone's mother or grandmother, who uses her heart and mind to solve this tangled mystery. When Detective Patrewski asks Bridg if she's trying to save the world, she replies, "Too big. I'm only picking up around my patch." And she does manage to straighten up her own world, as well as the lives of the people she's come to care about, in a memorable and satisfying conclusion.
Harrington's style is crisp and her characters believable. Using her own personal knowledge of the Cambodian refugee community, Harrington weaves insight into Asian culture and traditions into a rich tapestry. I look forward to more Bridget O'Hern mysteries!