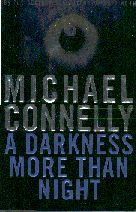 I spoke briefly with Mike DePasquale, L.A.'s Pacific Division homicide coordinator, with shared enthusiasm for Michael Connelly's recent crime novel, A DARKNESS MORE THAN NIGHT. DePasquale feels that Michael Connelly's latest is his most realistic ever.
"The Hollywood personality Connelly has outlined allows for an accurate portrayal of the problems an investigator faces when dealing with the celebrity factor," said DePasquale. "Connelly moves you through the story and never lets up until the climax, then he lets you down easy."
A DARKNESS MORE THAN NIGHT is Michael Connelly at his best. Besides the usual high stakes crime story, an investigative visit to the Getty Museum provides insight into the psyche and character of Harry Bosch with a magnifying glass. The center panel of a painting, The Last Judgement, also suggests clues to the murder. Serious questions arise about Hieronymous Bosch and whether or not he should be on the streets, much less with a badge. But then, that's always the question with Harry, crime fiction's favorite bad good guy. What makes it exceptional in this case is that the close inspection comes at a time when Harry is in the spotlight during a trial that has the potential to put away a famous movie personality for a sex-related murder. A pattern is established and to complicate matters, a witness, an actress crucial to the case, has vanished. The success of the prosecution depends heavily on Harry. It would not do to have him locked up in cell unable to track down the wit, or to show up in court in shackles and jailcothes.
Another provocative slant is that Terry McCaleb, Connelly's retired FBI investigator, is enticed from paradise, his home on Catalina Island, back into the crime and grime of Los Angeles. You might wonder how Terry could ever leave the arms of his gorgeous wife or how he can abandon his just-born baby girl to ponder a tortured dead body. But once he begins his profiling you know he won't let go of the case until he has resolved it because that's the kind of man Terry McCaleb is. What's startling is that the courtroom dramatics featuring Harry Bosch and the tale of Hollywood scum spins into McCaleb's case and culminates into the realization that there is a support system of calculated evil. Where, exactly, Harry Bosch fits into the story becomes a question that McCaleb must answer in spite of their friendship and shared history.
It's a clash of the titans and it's hard to choose sides. The end of this crime drama is fulfilling and loaded with meaning for both Harry Bosch and Terry McCaleb, two of murder mystery's most finely drawn characters.
Copyright © 2001 Denise Baton